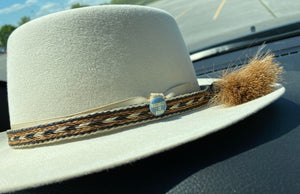 Founder and Creative Director
Connie Collingsworth
"This is America. Pick a job and become the person that does it." - Bobbie Barrett
Connie started her creative journey in 1997 when she co-founded Print Mafia with long-time friend and fellow artist, Jim Madison. Together, they created concert posters and art prints for 20 years, working for venues and bands from around the country.
Her career pivot to art direction and music merchandising started in 2016 when she began working with her first touring client, Colter Wall. Since then, she has worked with other artists including: Melissa Carper, Elizabeth Cook, Vincent Neil Emerson, Riddy Arman, The Local Honeys, and Natasha Negovanlis, and others.
Connie took the next logical step in 2019, when she co-founded La Honda Records with friend and industry colleague, Travis Blankenship. La Honda is a passion project that has allowed her to put out music that she believes in by artists she respects. Her career has come full circle.
Being in the creative field and around the music industry, Connie has made connections with freelance artists from around the country. Coupling her own creative acumen with this group of artists (all with different skill sets), allows her to provide any style, look, or brand idea her clients can dream up.
When she isn't working, Connie can be found watching her favorite shows, hanging out with her 2 dogs and 2 cats, traveling with her wife, and being an all-around un-cool person.
Our Clients Include...